Career Signing Day
Thank you to all of our community, school and employer partners who came out to support our Career Signing Day. Thank you to our sponsors Company Wrench, Fairfield Insulation, Kumler Collision & Automotive, Fairfield County and Fairfield 33 Alliance for helping to make this event possible.
Congratulations Graduates
Congratulations to all the graduates of Fairfield County's Workforce Center Pre-Apprenticeship and Certification programs!
Habitat for Humanity
The Workforce Center was honored to host Habitat for Humanity (Fairfield County) over the weekend while they built exterior walls for a community members new home. Inspirational messages were written into the walls to fill the new home with love. Thank you so much to members of Lithopolis United Methodist Church, Breakin' Barriers Youth Group and all community volunteers who came out to support.
Student Readiness Program
Thank you to everyone who participated in the Career Expo Event

We served nearly 300 students and had over 70 employers in attendance including colleges and adult workforce programs in attendance.
Fairfield County Workforce Center Completes Final Week Of Summer Explore Career Camps
On Friday, July 29, 2022, the Fairfield County Workforce Center concluded the fourth and final week of its Summer Explore Career Camps. Over the course of these four weeks, students were able to participate in one-week sessions of three industry-specific camps: the Healthcare Heroes Camp, Totally Tech-Bot (Robotics) Camp, and Mad Science Builders (Skilled Trades) Camp. In total, 83 certificates of completion were awarded to Junior High students for successfully completing camp.
THE FAIRFIELD COUNTY WORKFORCE CENTER IS EXCITED TO ANNOUNCE THAT WE HAVE RECEIVED $2,000,000 TO HELP EXPAND OUR PROGRAMMING TO CREATE MORE ROBUST EDUCATIONAL EXPERIENCES.

This funding was made possible by the recently passed American Rescue Plan (ARP) and granted to our center by the Fairfield County Commissioners. Yesterday's event hosted at the Workforce Center honored the 20 projects across the county that received funding through the ARP. In addition, we were grateful to be able to give tours of our center to members of the wider community to inform them about the services we offer.

Thank you again to the Fairfield County Commissioners for this funding so that we can expand our programming to help the future workers of Fairfield County get the education and opportunities they need to thrive!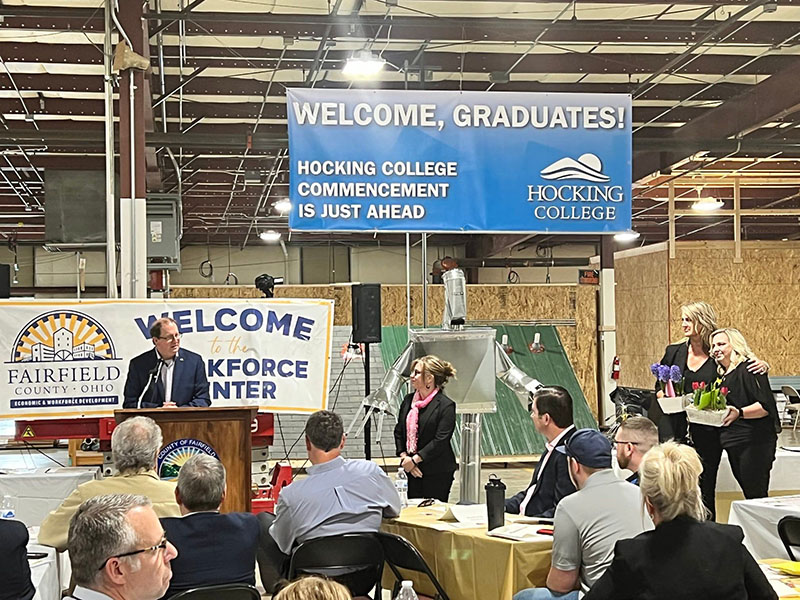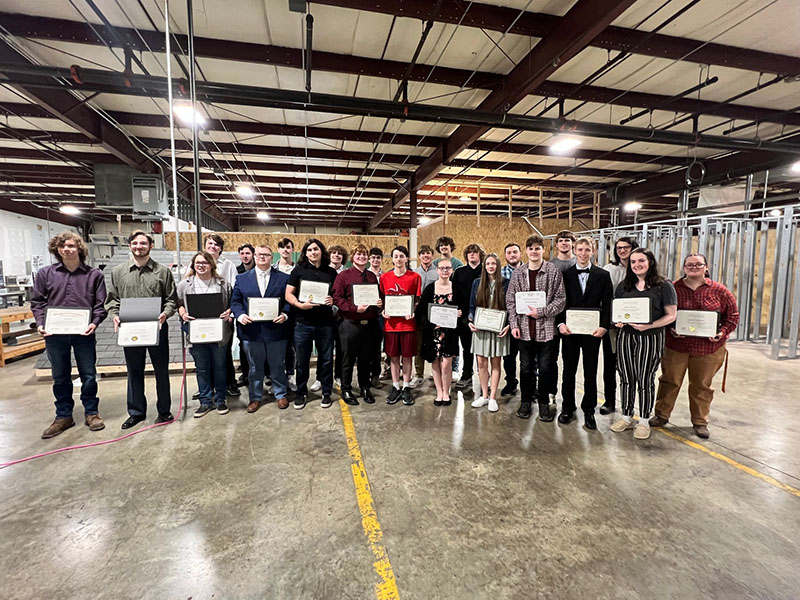 WORKFORCE CENTER CELEBRATES FIRST COHORT OF GRADUATES

On May 5th, 2022, Fairfield County Workforce Center celebrated its first cohort of graduates at a luncheon. The graduating class of 2022 included 43 students who were able to work with Ohio University and Hocking College in a non-traditional learning space to equip them with the skills they need to be hired into careers post-graduation in their local communities. The graduation included speakers from the Fairfield County Workforce Center and other leaders throughout the county. We are so proud of our first cohort of graduates and are excited to welcome students back in the Fall.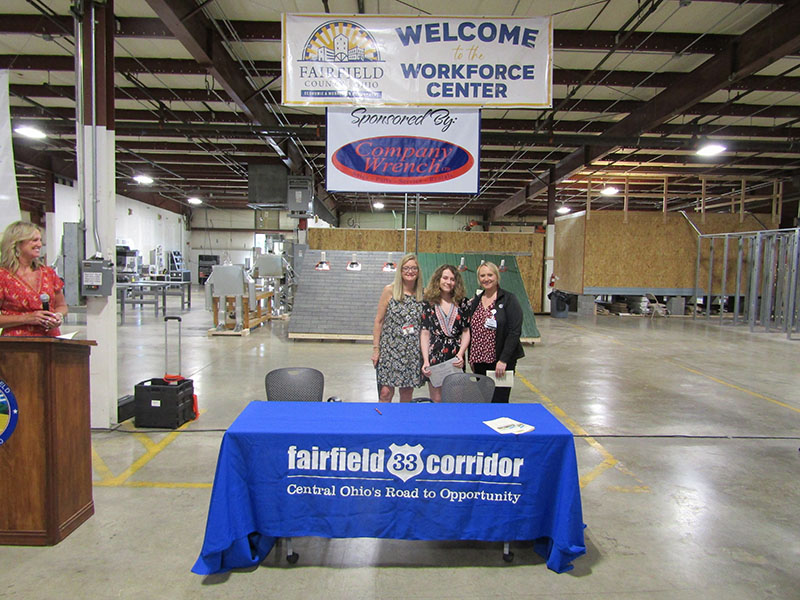 WORKFORCE CENTER HOSTS CAREER SIGNING DAY

On May 12th, 2022, the Fairfield County Workforce Center hosted a career signing day for fourteen students from various schools across Fairfield County. We celebrated these students who have been offered jobs with three local companies which sponsored the event: Midwest Fabricating, TWC Enterprises, and Company Wrench. Thank you to our sponsors for hosting this event to help us celebrate these bright students who will be making the direct transition into careers in Fairfield county. Check out photos from the event and follow us on facebook to see our highlights on each of these students who participated in the event.

PICKERINGTON STUDENTS START COURSES AT WORKFORCE CENTER

Seniors from Pickerington Schools are being introduced to different careers at the Fairfield County Workforce Center. Spectrum News visited to learn about this unique program.


LIEUTENANT GOVERNOR HUSTED VISITS WORKFORCE CENTER

Lieutenant Governor Jon Husted visited the Workforce Center on September 29 and learned about the great collaboration that helped get the Center started.